Its now well into September and the north and south walls have been re-framed.  So far we have done exceedingly well using almost entirely reclaimed lumber (once more I would like to extend our gratitude to the ReUsable Lumber Company.)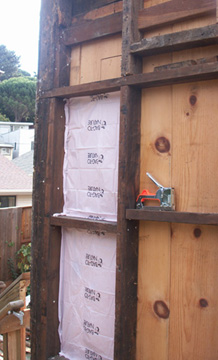 Since we are having our insulation (AirKrete) blown in, we had to be extra concerned about the back room which is fitted out in knotty pine.  Wood shrinks over time so many of the panels had gaps between them.  A few panels had odd cuts in them from who knows what.  In order to insure that the AirKrete wouldnt ooze into the room between the panels, I worked on stapling plastic to the back side of the paneling while the wall was open.  Its always wisest to work with what you already have and this worked really well for this project.  I had purchased some biodegradable plastic bags call "Bag to Nature."  To tell the truth, they didnt really work as garbage bags.  They split open every time.  They are working really well as a super-cool/eco-snooty temporary barrier in our wall!
Our first big painful act was putting up the sheer wall.  Half inch plywood is thin and dosnt survive dismantling well so we were mostly unsuccessful finding reusable half inch plywood.  We did manage to scavenge a few pieces from people on Craigslist and the ReUseable Lumber Company was able to provide us with a few sheets but nothing near what we needed for our project.  We did the best think we could.  We purchased new material from our local independent lumber yard.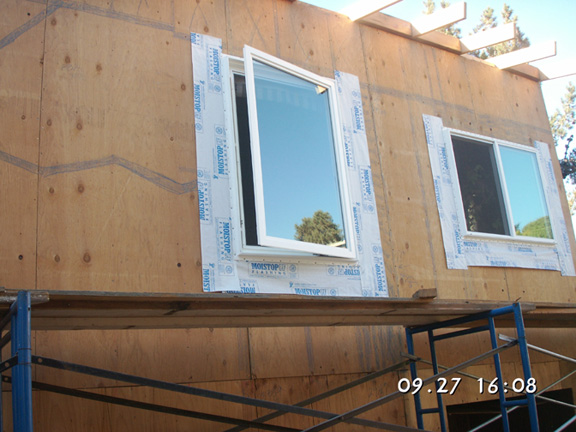 Sierra Lumber was able to provide us with FSC certified plywood. 
We asked our GC to mark the placement of all the studs and bracing in the wall so the Airkrete installers wouldnt miss any cavities.  Some of the really tiny cavities we packed with scraps of Ecobatt. 
Our GC and insulation installers were extra concerned about the area around our fireplace.  The wall just inside the fireplace basically had no structure.  There was nothing but wood paneling spanning the space above the hearth so blowing insulation in there was out of the question.  Since we wanted to insulate without introducing combustible material  we inserted some mineral wool by hand.  We were lucky that someone was selling some left over mineral wool on Craigslist.