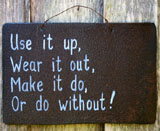 Re-use is better than recycle.  Don't buy new if you can make do with what you already have, or can find a used alternative.  Scroll down for more informative pages.  
http://www.almanac.com/blog/everything-almanac-blog/what-do-stuff-you-usually-throw-away
Dishwasher Rack


Old Speaker


Old Records


VHS Case/Wall Storage


Chair/Towel Rack

Bottle Railing


Wine Cork Moulding


Watering Bottle


Soda Bottle Bottoms linked together

Picture frame


Glass lamp shades & Vases


Chop Sticks

New life for an Old Leaky hose

Recipe Holder


Quick Halloween Decorations

Canning rings.  Reuse take it apart and reuse it next fall

2 liter sprinkler


 

 

Stool into a rolling organizer

Milk Jug + tape = storm trooper

cassette case iphone stand.

spoon chandelier

cardboard

Hallowe'en

decorations.

bike chain bottle opener

suitcase doll house

toilet paper tubes wont die like old rubber bands

birds nest in an old shoe

pallets slipped over fence posts.  Fast and  recycled

Soda bottle into a hanging planter.